Asian spirits producers have seen their products increasing in popularity as consumers widen their tastes and look for new inspiration. Nicola Carruthers finds out how brands are capitalising on this interest in their drinks.
*This feature was originally published in the May 2021 issue of The Spirits Business
Asian spirits are gaining traction across the world, as consumers seek to explore new flavours and drinking experiences. Countries such as China, Hong Kong and Singapore have long been seen as attractive markets for producers, and investment from big players is also being pumped into new distilleries.
The allure of Asian spirits has seen producers increasingly release products commonly associated with the West, such as gin, vodka and rum. We've also seen distillers outside of Asia unveil variations on Asian spirits such as baijiu and shōchū.
Distillers in Japan, Vietnam, Singapore and India have sought to tap into the global thirst for gin worldwide with their own take on the spirit, infusing local botanicals and using innovative production methods.
One of the early pioneers of Japanese gin is Kyoto Distillery, producer of ultra-premium brand Ki No Bi, which opened in 2016 as Japan's first dedicated gin distillery. Marcin Miller, co-founder, said the distillery was born out of a love of Japan and ultra-premium spirits. "If you delve into the history of Japanese spirits specifically, they have for a long time made versions of Western spirits," explains Miller.
Kyoto Distillery's first product, Ki No Bi, was released in August 2016. The range has since expanded with Ki No Tea, developed in partnership with tea blender Horii Shichimeien, and Ki No Bi Navy Strength.
The producer is also planning to release a 29.5% ABV sloe gin, called Ki No Bai, made with plums. Miller says the distillery is "committed to gin" and won't branch into other spirits such as whisky. "No other distiller in Japan has built a distillery for the production of gin. That's a really significant point because we're showing commitment."
The potential for Japanese gin also saw major players jump on the bandwagon, including Beam Suntory. The producer released Japanese gin Roku in May 2017, which is made with six Japanese botanicals: cherry blossom, cherry leaves, green tea (sencha), refined green tea (gyokuro), Japanese pepper and yuzu, alongside eight more traditional gin botanicals.
"Gin is a highly attractive category around the world, so it isn't surprising that other Japanese or Japanese-style gins are launching," says Jon Potter, managing director of House of Suntory. "We are confident that Roku Gin will be a standout in the gin category, and we welcome any interest in Japanese products and craftsmanship. From a flavour and quality standpoint, Roku's refined, delicately balanced flavour sets it apart, driven by the six uniquely Japanese botanicals."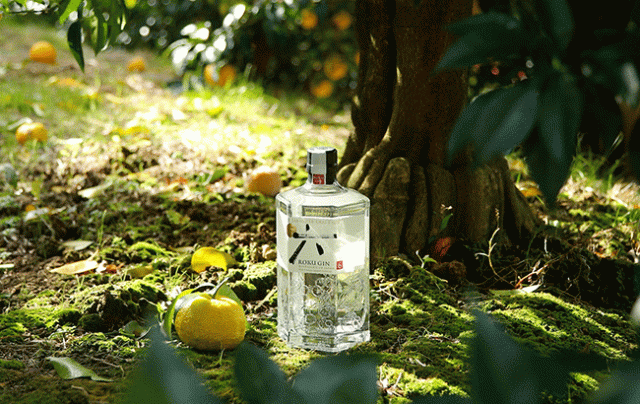 Complex spirit
The launch of Roku gin was followed by Haku Vodka in 2018, which is made from Japanese white rice. "Haku Vodka is a very complex spirit, as it is the only vodka that is made 100% from Japanese white rice and filtered through bamboo charcoal," says Potter. "This process preserves and enhances the rice's delicately natural sweetness and subtle flavours."
However, Roku and Haku were not the first gin and vodka from the company, says Potter. The House of Suntory, which was founded in 1899, released Hermes Gin in 1936 and Hermes Vodka in 1956, both of which are no longer available.
Potter adds: "Haku Vodka and Roku Gin offer a great opportunity for: craft spirits enthusiasts who are eager to discover new tastes and experiences; Japan lovers who seek the quality and the cultural approach of our products; and Suntory lovers who trust our meticulous approach of spirit making."
Meanwhile, in June 2017, Japanese whisky producer Nikka unveiled Nikka Coffey Gin and Nikka Coffey Vodka. "We decided to launch Coffey Gin and Coffey Vodka to further showcase the beauty of our signature Coffey stills, following the success of two grain whisky expressions, Coffey Grain and Coffey Malt," explains Emiko Kaji, Nikka whisky's international business development manager, Asahi Breweries.
Roku is available in more than 45 markets, including the UK, Australia and Southeast Asia. Potter says Roku and Haku have performed "very well" in the US, and have enjoyed success in key cities worldwide.
Potter adds: "While the US remains the largest vodka market (and Haku market since launch), we have launched Haku in other markets as well."
Like Suntory, the US is the biggest market for Nikka Coffey Gin and Vodka, Kaji adds. "They are also successful in European markets such as Italy, France, Germany and the UK."
Kaji says the response to the spirits have been "very positive" and are "highly recognised by bartenders". She says: "Distillates coming through the Coffey stills are described as a perfect canvas for cocktail creations, because of its soft and smooth mouthfeel and a rich texture that captures the characteristics of various ingredients."
Miller says Japan has not adopted at-home consumption yet, but he believes there is scope for growth. "Japan is still not the country where you might get a lot of at-home consumption of gin," he says.
"You can't buy tonic water in a convenience store. Fever-Tree will have assertive aggressive plans and targets for Japan because it's a country that's going to grow in terms of consumption as it has gin producers that are from the two biggest spirits companies." Outside of Asia, Miller is eyeing markets such as the UK and Germany, as well as the US and Australia.
Vietnam's Sông Cái Distillery aims to tell the story of Vietnamese craft spirits, according to its founder, Daniel Nguyen. The producer's range includes two gins, Floral Gin and Dry Gin, which are made with ingredients such as cassia and star anise, alongside Vietnamese botanicals such as clausina indica. The producer is also planning to release a myrtle berry gin, similar in style to a sloe gin, but "more spice-forward" adds Nguyen.
High-quality whisky
Japan has long established itself as a country of high-quality whisky. And now the drink is being made in countries such as Taiwan, India, Singapore and China. Taiwan's Kavalan put the country's whisky on the world stage, winning numerous accolades since the launch of its first single malt in 2008. Kavalan was also the first distillery to use Dr Jim Swan's now-famous STR cask treatment, which stands for shaved, toasted and re-charred.
Sandra Tsai, Kavalan brand ambassador and global PR officer, says the country's hot temperature has created a unique spirit. She says: "During the nearly 40-degree highs of summer, the whisky sleeps in oak barrels undergoing accelerated extraction, expanding and extracting flavour compounds from inside the walls of the casks.
"During the winters of less than 10°C, and when the Pacific breezes are most influenced Siberian winds, enhanced oxidation locks those flavours into the whisky. These extraction and oxidation processes sync together to create a redefined ageing process, unique to Kavalan."
Kavalan also unveiled its first gin for the local market in 2018. Kavalan Gin is the first in a new series of gins, with experiments ongoing for the next releases. "We have taken a different path to several other distilleries who have launched a gin product before they launch their whisky product," adds Tsai.
She says the launch of the gin was not planned. "In 2008, we installed four sets of German stills to produce single malt whisky," she says. "However, we found that the new make was light and not fruity enough to meet our expectations. As we noticed the gin category in general had very good growth potential, in 2012, in consultation with Dr Jim Swan, we repurposed our German stills to produce Kavalan Gin."
Inner Mongolia
Inner Mongolia will also welcome a whisky distillery following a joint venture between the Mengtai Group and Scotland-based Valentine International. Mengtai's chairman Ao Fengting is aiming to create "China's best and globally award-winning whisky", according to an announcement in 2019.
In April 2019, Johnnie Walker owner Diageo also revealed plans to develop a "new-to-world whisky" as part of a joint venture with Chinese baijiu producer Jiangsu Yanghe Distillery. And this year, Singapore's Brass Lion Distillery is planning to release its first single malt whisky.
Sông Cái will also release a malt whisky made from heirloom local grains in Vietnam, and aged in a variety of barrels. The whisky won't be ready for a few years.
French firm Pernod Ricard is also getting in on the action, having announced plans to invest in the opening of distilleries in China and Japan in recent years. The Absolut vodka owner made a "significant investment" in The Kyoto Distillery last year, which will include the opening of a new site for the producer.
Meanwhile, in 2019, the Paris-headquartered group pledged a US$150 million investment to build Emeishan Malt Whisky Distillery in the city of Emeishan in China's Sichuan province. The 13ha site will incorporate an 'innovative approach to malt whisky-making', and an 'immersive' visitor centre. During a media briefing in London for Pernod Ricard's fiscal 2019, Chivas Brothers CEO Jean-Christophe Coutures said the aim of the site was to "develop and expand the whisky category in China".
Signficant partner
The Kyoto Distillery says the partnership with Pernod Ricard has given the distillery stability throughout Covid‐19 and will allow the producer to expand its footprint. Miller says: "The last 12 months would have been extraordinarily challenging without the resilience of a significant partner."
As bars have been closed during the pandemic, Miller hopes to build the brand in the "right off-trade", but he says: "Don't expect to see Ki No Bi in all the major supermarkets."
Asia is also home to the world's biggest-selling rum brand, Tanduay, from the Philippines. There are also several major rum producers in India, including Diageo-owned United Spirits, Amrut Distillers and Radico Khaitan.
Nusa Caña rum is hoping to bring back the forgotten story of Indonesian rum to consumers around the world. Launched in 2015, it is made from molasses from sugarcane grown on the Indonesian island of Java, and yeast grown on Javanese red rice.
The brand's co-founder, Sam Jeveons, says the country has 400 years of rum-making heritage and a long history of sugarcane consumption. The brand has secured a number of European distributors, and recently raised more than £500,000 (US$694,000) through crowdfunding to boost its presence across Europe and the UK.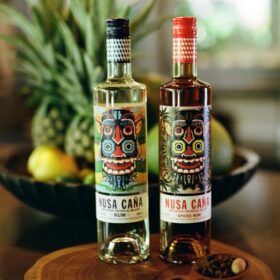 Last year the brand unveiled a spiced rum as its first line extension, and moved into the ready-to-drink sector in Australia. Nusa Caña also plans to release a third rum this year and a fourth at the end of 2021. "In five years' time we want more spirits in our portfolio, and to be successful in Europe and America," adds Jeveons.
He also cites the potential for Asian spirits in the on-trade, particularly as well-known bars, such as New York's Please Don't Tell (PDT) and Employees Only, open outposts in areas such as Singapore and Hong Kong.
One challenge for producers is establishing the reputation of Asian spirits globally.
Nguyen says Vietnamese spirits suffer from a meagre reputation. "Traditionally Vietnamese spirits have been viewed as not the best quality," he says. "So we have to change the perception around them. The craft spirits scene is revitalising and reinfusing pride back into the industry, which will help usher in more producers as we start to gain recognition on the global stage. We are set on making sure our standards of quality are equal to our international peers."
Like Nguyen, Jeveons says the challenge for Nusa Caña is raising the profile of Asian spirits on the whole as "Indonesia is not as established as other rum regions". He also believes there is a need for more regulations for rum production in Asia.
Stricter rules
As Japan reveals new guidelines for whisky, Tsai also hopes for stricter rules to protect the category in Taiwan. "The number of distilleries is growing rapidly in Asia," says Tsai.
"However, with it comes the need for greater regulation and a definition or a geographical indication. In the beginning of 2021, Japan and New Zealand groups introduced new regulations to define their whiskies. By current regulations in Taiwan, the spirit must be mashed, fermented, distilled and aged for at least two years. It must contain grain and be bottled at a minimum alcoholic strength of 40% ABV. As a producer we would really like to have stricter regulations to protect our reputation and the reputation of Taiwanese whisky."